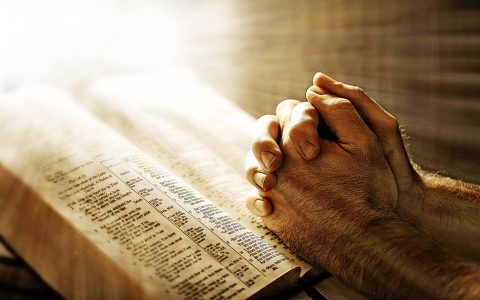 1 John 5:14 ~ This is the confidence we have in approaching God: that if we ask anything according to his will, he hears us.
Each week in our worship service we take the time to share our thanks to God and our burdens.  
The following is our ongoing prayer list:    Thanks to all for your prayers! 
There is also a special time of prayer at 5:30pm on Thursdays in the chapel.    Join Joni for these special prayer times.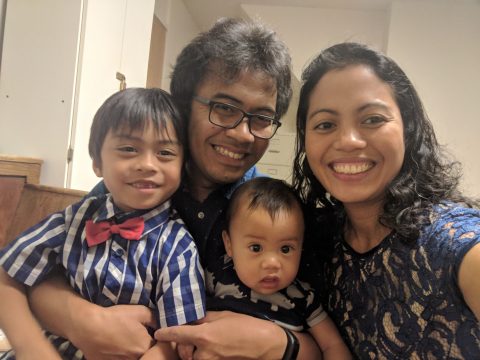 Joni & Ping Digaum with J.D. & J.C.
Remember to also pray for our prayer list in the bulletin:  
Our church family, our school, and our preschool
EACSM: Community Services Ministries
Prison Ministries
Health – Jerry & Mary Mace, Ann & Bob Owens, Ruth Leslie, Peggy Moore, Betty Oster, Virginia Holbert, Tut Goodman
Safety—Josh Robbins/military
God's Will—Pigmans
Sept. 12
Nikko's nephew, Scott, is only 55 years old and was diagnosed with throat and esophageal cancer.  He is starting treatments tomorrow.  It is just awful!  Please pray for him!
Wendy's sister, Sydney, is going in MOnday morning (tomorrow) at 6:30am for a procedure to regulate her heart rate.  Thank you for your prayers.
Kelly - It was our anniversary last week and I'm happy to have a good husband that supports me in all I do.  I'm thankful!
Jessica - Our school is full and has a waiting list.  Praise the Lord!
Jonathan - Praise that we had a backpacking trip with the Pathfinders and it was a blast.  No one was hurt and we went 18 miles or so in the Sawtooths.  It was a blessing to be out in nature.
Pat - Praise that the Echelemeier's are here now!
Egina - We had an anniversary 42 years!
Andy - We had an anniversary 16 years!
David - We are thankful for a safe trip up north.  Lot's of work and no injuries.  It has been our dream to have another dog.  There was one sitting by the edge of the road and he jumped in our truck with us.  WeE asked around everywhere and couldn't find the owner.  WeE are happy to have a dog.
Pat - The horse is alive!  Thanks for your prayers.   MaryKay was able to go to the women's retreat and take her neighbor, Susan.  Please pray for her experience with God.
Bert - Zeel Yurgen (a former member) had to evacuate because of the fires. She is back now though.
Martha - I have several friends in WA & OR that have had to evacuate and wonder if their home is still there.
A friend's son is in ICCU with salmonella infection and is septic.  He is on a ventilator.  Please pray for him.
Carolee - It's great to be here and seeing you all.
Kelly - Need to remember all who are affected by the fires and have to evacuate.
Josie - My daughter was sick two weeks and thought that it was Covid, but it ended up being from recalled onions and salmonella.  Praise God she is OK.
Aug. 29
Louise - Pray that God will wake people up.  They need to hear the message 
Don - Pray for our neighbors.  Walk your neighborhood and pray for them.
Jodi - Pray for the public schools.  Parents don't know what to do because they have to work and school is online.  They can't leave their kids at home, and can't find places for them to be.  
Visitor - A friend is in the hospital recovering from surgery.  Allen
Jonathan - Praise that we haven't been sick for months!  and not sick with Covid.  Back to school and kids are getting some colds, but pray for good health.
Kris - Kenny has bad back pain.  He was trying to get a tree our and lifted it up and hurt his back.  The doctors can't do anything else for him.  He has meds, but not doing well.
Karen - Dad in the hospital with Covid.  He has had respiratory and heart issues.  So far is ok.  His name is Ray.   Also I have surgery on my shoulder again on the 14th and hopefully it works this time.
Aug. 22
from Kris Litzinger - Please ask the church to pray for Kenny, my husband.  He has been dealing with a bad back for 12 days, but today he felt the disk slip out fully.  He's in the ER with so much pain.
Jodi - Please pray for Talani and Brian.  They have been studying the Sabbath but their job requires them to work on Sabbath and if they lose their job, it is also where they live and will lose their home.  They contacted our church via email.
MaryKay - My neighbor is coming to women's retreat with me!  Pray for her and for her mom who is 91 and fell.
Nikko - My sister had to evacuate because of the fires in California. and a nephew as well.  Their homes were saved!  Praise the Lord.
Martha - Our school is about full!  Praise the Lord!
Cindy - I have a full and a part-time job.  Praise the Lord!
Dallas - Pray for those that had medical procedures this week.  I heard they went well. One was Carol Meharry and hers went well.
Aug. 15th
Kelly - today is my dad's birthday. I'm thankful for hi in my life and all that he taught me.  Also, Chris my brother is having knee surgery on Monday and shoulder surgery next.  Pray for his recovery and for his spiritual life.
Martha - Thanks to Joe for doing Pathifnders. He is the only one that does it in the summer.  He is backpacking with kids this weeknd.  Labor day they will go in the Sawtoothes.  Thankful he has the drive.
Nikko - Thankful my foot surgery is healing well and my brother and sister in law are here.
Jodi - Keep the school in your prayers.  We have new students and pray they find our school a place to be and that we can reach out to them for Christ.  We also need some more students in preschool.
Louise - Thanks to God!  We need to know to whom we will obey.  God or the government? 
Karen - Caleb joined the navy but was given a medical discharge. He is on his own and setting up apartment in Emmett and has a job.  Prayers for his independent living.
Jessica - New families at school searching for truth.  They have been studying and convicted of the Sabbath and were excited to find a school that teaches what they have been studying.
Aug. 8th
Pat - Praise that Tut is back!
Sue - We are close to the end. Jesus is coming!
Tut - I have surgery on the 19th
Louise - My friend Judy is studying the Bible and the literature I gave her.
MaryKay - Tina, my friend got a car, but it was stolen or it lost title...  She needs a car.