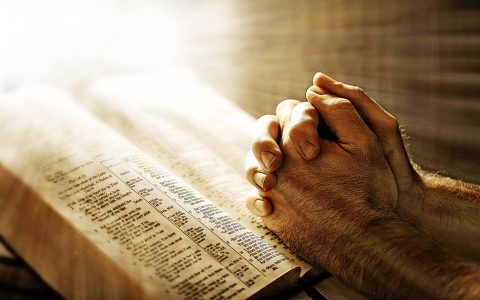 1 John 5:14 ~ This is the confidence we have in approaching God: that if we ask anything according to his will, he hears us.
Each week in our worship service we take the time to share our thanks to God and our burdens.  
The following is our ongoing prayer list:    Thanks to all for your prayers! 
There is also a special time of prayer at 5:30pm on Thursdays in the chapel.    Join Joni for these special prayer times.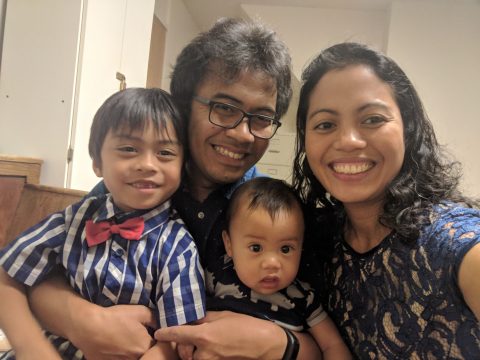 Joni & Ping Digaum with J.D. & J.C.
Remember to also pray for our prayer list in the bulletin:  
Our church family, our school, and our preschool
EACSM: Community Services Ministries
Prison Ministries
Health – Jerry & Mary Mace, Ann & Bob Owens, Ruth Leslie, Peggy Moore, Betty Oster, Virginia Holbert
Safety—Josh Robbins/military, Caleb Roosenberg/military
God's Will—Pigmans
July 11
David - Praise for a wonderful vacation.  Pastor TErry & maggie send their greetings.  Prayer for Community Services as we present at the Merdian church this afternoon.  We've passed out about 12,000 lbs of food this month.
Louise - Carolee misses us.  Contact her! She would really like that.
Kelly - Praise that Reesie is 7 now.  I'm thankful for my bright funny adventurous girl
Jonathan - Praise that my sprinter got repaired. Thankful that it was not expensive and glad to have it back for my job.
Carol - Praise that God is with us in the transitions in life.
Roger - Praise for the prayer time we've had for 106 days.  We've prayed for the Holy Spirit, and church unity and for our new pastor.  We will be going to once a week now.
Online prayer request - I have friends in VA that the congregation has some positive tests for Covid.  Please keep them in your prayers.  Friends are very sick and also their kids and grandkids.  If she is not better by Sunday, the Dr will hospitalize her.  Not good, but God is still a miracle worker.
July 4
Ruth Leslie's daughter has Covid.  Ruth lives with her daughter, so keep both of them in your prayers.
Wendy - Praise, my brother-in-law was coming home from work and a car stopped right in front of him. He veered off the road and hit a tree, but the air bags went off and he is OK.
My sister Sydney is going to have a mss removed from her kidney.  Please pray for her.
Madeline - My daughter was exposed to Covid in Emmett.
Jonathan - My mom had breast cancer removed.  Please pray for her.
Brian - Thanks for our freedom in this great country. We can worhsip Jesus and God is with us.
Jodi - The church that rents from us is still staying away, but want us to know that they are praying for us. I told them we would pray for them as well.
Roger - 100 days of prayer is done but we are keeping the prayer time going each night at 6pm.  It's been a blessing and there have been miracles happen.
Pray for our new pastor as well.
June 27
Carol - Praise God for the love and friends we have here.
Jim - Praise God for the place we live and the lack of violence.  WE have a relatively peaceful valley.  
Melanie - My daughter, pray for her.  She had growths attached to her organs and ovaries.  She had surgery and is doing well in recovery.  They will be able to start on having kids and a family.  Thanks to the heavenly Father.
Jonathan - My mom has breast cancer.  Last week had two lumps removed and one was cancer.  It looks good and they think they caught it early enough.  Please keep Joan in your prayers.
Nancy - After 2 catyaract surgeries and 2 laser surgeries, they said that I should have my eyesight back now.  I'm so thankful!
Egina - A friend at work has 4 kids and they are having a split in the fmaily.  Pray for Cindy
Louise - Pray for Carolee. Her knee hurts when she walks
Brian - I just talked to my mom and her knee is doing better.
Roger - My sister-in-law is in renal failure from cancer.  She is only ebeen given about 6 months.  Please pray for her.
From the website - Please pray for Leah who has a lump on her neck, thyroid lymph nodes and possible surgery.
June 20
Don - Praise!  The workbee was a great success. Thanks to all!  Special thanks to Ken for bringing a trailer to haul off all the junk.  In 2 weeks the facia will be painted.
Martha - Praise!  Austin loves camp.  He will be working in the kitchen and teaching hockey and canoeing.  
Our crawl space had water and it's a small fix and will be done on Tuesday.  
Joe's friend is doing well and will go home soon.
Dave - Ellie's lab tests came back good.  She is doing well.
Nikko - Prayer for our neighbor who is angry and wants to fight.  Prayers for calm.
Kelly - My parents neighbors went through an ugly divorce. and now the 5 month old baby died in their sleep.....  please pray for them.
Emmanuel - Thanks to God for another year.  Our daughter had a birthday
Jonathan - I'm so happy that I don't have shingles anymore! Glad that in heaven we don't have any of these things.
MaryKay - I'm going to the beach with my horse and my neighbor gal is coming with.  Pray I can be a witness to her.
Joe - Pray for the nominating committee and for people to be moved to sign up.